TDRH Single Stage Vacuum Pumps/Generators • Straight-through vacuum passage allows solid material to pass directly through the pump with no reduction of vacuum flow. • "A" Diameter indicates the size of the straight-through vacuum passage.
• Provides medium and low Vacuum Levels while developing high Vacuum
Flow with minimal Air Usage.
• When Vacuum Flow is important, regulate the operating pressure.
•
High Vacuum Flow will occur at 40-50 psi however l
ower pressures of 20-30 psi will also provide sufficient Vacuum Flow.
Data below recorded at 70-75 psi. • Vacuum Levels "Hg (Vac), Vacuum Flow scfm (Flow), Air Usage scfm (Air)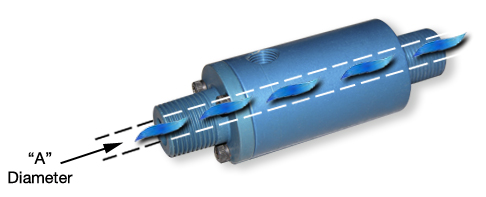 TDRH Vacuum Pump
Code: TDRH380H
Price: $91.00
(contact Air-Vac for delivery)
Quantity in Basket: none


TDRH Vacuum Pump
Code: TDRH380M
Price: $91.00
(contact Air-Vac for delivery)
Quantity in Basket: none







TDRH Vacuum Pump
Code: TDRH380L
Price: $91.00
(contact Air-Vac for delivery)
Quantity in Basket: none


TDRH Vacuum Pump
Code: TDRH440M
Price: $100.00
(contact Air-Vac for delivery)
Quantity in Basket: none







TDRH Vacuum Pump
Code: TDRH440L
Price: $100.00
(contact Air-Vac for delivery)
Quantity in Basket: none


TDRH Vacuum Pump
Code: TDRH500M
Price: $112.00
(contact Air-Vac for delivery)
Quantity in Basket: none







TDRH Vacuum Pump
Code: TDRH500L
Price: $112.00
(contact Air-Vac for delivery)
Quantity in Basket: none


TDRH Vacuum Pump
Code: TDRH750L
Price: $138.00
(contact Air-Vac for delivery)
Quantity in Basket: none







TDRH Vacuum Pump
Code: TDRH1000L
Price: $149.00
(contact Air-Vac for delivery)
Quantity in Basket: none


TDRH Vacuum Pump
Code: TDRH1250L
Price: $210.00
(contact Air-Vac for delivery)
Quantity in Basket: none







TDRH Vacuum Pump
Code: TDRH1500L
Price: $279.00
(contact Air-Vac for delivery)
Quantity in Basket: none


TDRH Vacuum Pump
Code: TDRH1750L
Price: $305.00
(contact Air-Vac for delivery)
Quantity in Basket: none







TDRH Vacuum Pump
Code: TDRH2000L
Price: $343.00
(contact Air-Vac for delivery)
Quantity in Basket: none


TDRH Series Muffler
Code: S975
Price: $41.00
(contact Air-Vac for delivery)
Quantity in Basket: none







TDRH Series Muffler
Code: S975S
Price: $41.00
(contact Air-Vac for delivery)
Quantity in Basket: none